On February 5th, the project team of "UK-China Research, and Innovation Collaboration in Cloud-based Virtual Film Production (UCCVP)" conducted an online workshop on Innovation, Collaboration, Resilience, and Talents in the Virtual Production Industry. UCCVP is funded by the Arts and Humanities Research Council (AHRC) to explore cloud-based Virtual Production (VP) for UK-China collaboration in the film industry.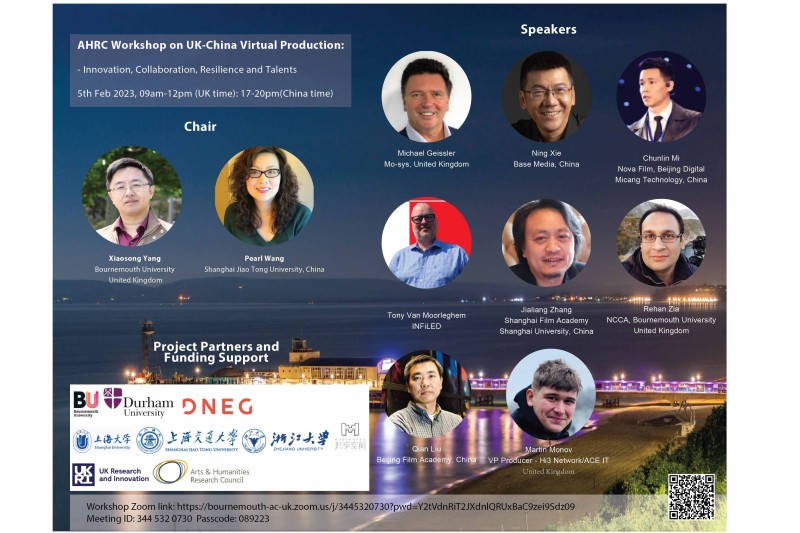 This workshop was chaired by the research project's Principal Investigators, Professor Xiaosong Yang from Bournemouth University (United Kingdom) and Dr. Pearl Wang Shanghai Jiao Tong University (China). It invited 8 speakers and many attendees from academic and industrial backgrounds to disclose their professional perspectives on VP in the film industry in both the UK and China. UK-China Film Collab was also invited to participate in the discussion.
Founder and Owner, Mo-Sys Engineering Michael Geissler shares specialities in adopting and combining the applications of green screens and LED screens. He suggests that although China's establishment of big LED screen studios is left behind by many countries, may be this country can catch up with the trends of VP by directly jumping into the next stage of the development of VP—building many small studios with small green screens and LED screens. Geissler's suggestion might be able to consider by the filmmakers in the VP industry when facing a shortage of opportunities to engage in big productions as Neil Xie points out.
Neil Xie is the Vice President of Base Media. He also suggests solutions to the development of VP in China. He conveys an idea that VP in China should start from schools rather than the industry. Xie gives many examples of how Base Media train their students and cooperates with Hollywood production to achieve success in both China and overseas. He believes that VP as a game changer plays a significant role in how people think in a graphical way.
Chunlin Mi from Nova Film (Beijing) focuses more on specific technological aspects. He introduces the problems of lighting matching of virtual and real fusion in VP by showing the unmatched colours of the same objects on the virtual screens and the actual shots. For solving this problem, his company invented a new multispectral lighting reproduction system.
As Technology and Business Director of the XR Division in INFiLD Tony Van Moorleghem shared his experience in working on global operations, customer service and product marketing. He introduces the core techniques for supporting the development of LED screen for VP and the global business of INFiLD including a headquarter in Shenzhen, China.
Hi3 Network/ACE IT's Virtual Production Producer Martin Monov shared his specialities regarding the post-production of VP development. He also proposes his suggestions on how the industry and universities should collaborate for creating VP talents.
Apart from the opinions from the industry, the workshop also invited many perspectives from academia. Dr. Rehan Zia introduces his design of the VP course at the National Centre for Computer Animation at Bournemouth University. His design involves very detailed aspects of training VP talents, including motion capture, real-time environments, digital camera systems and LED projections. He also relates the significance of breaking the stories down while mastering these techniques.
Professor Jialiang Zhang from Shanghai Film Art Academy, Shanghai University also shows how they train their students according to meet the international film market's requirements. The Academy sets VP courses in all grades and trains the trainers as well.
The Dean of Digital Media Institute of Beijing Film Academy Professor Liu Qian reminds new requirements for filmmakers working with VP workflow. He also shares his ongoing experience about how at the Beijing Film Academy train students with real feature film projects while applying new skills. At the end of his presentation, he emphasises the paramount status of content and introduces his observation of the development of digital visual media technology.
As an organisation devoted to inspiring and encourage film-related collaboration and debate between the UK and Greater China, UCFC (UK-China Film Collab) also contributed many valuable perspectives for the cooperation of the UK and China's Virtual Production Industry. Founder and Director of UCFC Dr. Hiu Man Chan suggests aspects including collaborations and co-investment in film studios and other possibilities.
Through the discussions and suggestions from various angles and dimensions, the workshop on Virtual Production achieved success in aspects including but not limited to the topic of "Virtual Production on Innovation, Collaboration, Resilience, and Talents in the Virtual Production Industry in the UK and China".
Above all, it contributed to a learning and networking opportunity for anyone working in the Virtual Production industry.